Residential Scaffolding Edinburgh
With any home project or emergency repair requirement AMF will be sure to be there to help with our residential scaffolding service.
We can assist in planned or unplanned tasks around your home whether it's a chimney repair or a major scaffold so you can replace your roof or add an extension. Look no further than AMF access services. 
Our dedicated team will help you at each stage of your residential scaffolding project. Ensuring that the job is completed efficiently and working with the time constraints given. While most importantly making sure the task is completed safely!
Our priority is minimising the stress and disruption to you while the work takes place. We pride ourselves in working to the highest standards and offering the "best in class" at on site safety.
Get in touch with our team today to schedule a free consultation for residential scaffolding services in Edinburgh and throughout central Scotland.
Get in touch now for your free no obligation quote where we will ensure that all your requirements are taken care of!
Edinburgh Residential Scaffolding Services
AMF provide residential scaffolding services to homes in Edinburgh and throughout central Scotland. Whether you're a homeowner or a landlord, we work with a range of clients to meet their domestic scaffolding and access needs and requirements. Providing excellence in safety, professionalism, and efficiency.
Here at AMF Access we place high importance on health & safety, with a number of safety specific accreditations that we've gained through our skills and expertise. While our years of experience working on residential scaffolding projects both large and small has allowed us to sharpen our knowledge of project management. Safety is always at the forefront of what we do. Allowing us to stand out from our competitors while offering our clients a reliable and trusted service.
Offering all our clients a free, no obligation estimate means we're able to understand your needs and timescales before getting started.
Please get in touch with us to discuss your domestic scaffolding requirements.
We also offer Commercial and Industrial scaffolding services.
AMF is striving to be a market leader within the residential scaffolding industry and as such is committed to safety in all aspects of the workplace. Not only at the worksites but in the offices, vehicles, or yard.
All of our team are trained to a high standard on health and safety practices. This positively impacts our clients, other contractors, and the general public.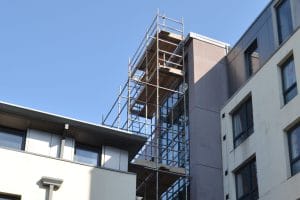 Scaffolding is critical in the construction and maintenance industries, providing a safe elevated platform to carry out tasks. However, improper use and neglect of safety protocols can lead to serious
AMF is pleased to announce that we have become the approved scaffolding contractor of Newtown Roofing and will support them on each of their various projects throughout Edinburgh and in
AMF is excited to announce a significant milestone in our journey, we are thrilled to share that we have recently become an approved scaffolding contractor for none other than Apex Roofing Contractors,