Commercial Scaffolding Edinburgh
With commercial construction or refurbishment projects, they tend to take an extended period. 
AMF will ensure not only the service we offer is professional, efficient, and run safely but that the scaffold is aesthetically pleasing to the eye – minor details make a huge difference to a project. 
We pride ourselves in not only keeping the client happy but the public who will be walking by each day.
We offer safe, efficient commercial scaffolding in Edinburgh and can be called at any time day or night to make alterations to suit. 
At AMF we will offer pre-tender advice, various scaffold systems, local council permits and will manage your project from start to finish. We also hope to soon offer shrink-wrapping services within the next 6 months.
Get in touch with our team today to schedule a free consultation for commercial scaffolding in Edinburgh and throughout central Scotland.
Get in touch now for your free no obligation quote where we will ensure that all your requirements are taken care of!
Edinburgh Commercial Scaffolding Services
AMF provide commercial scaffolding services to businesses in Edinburgh and throughout central Scotland. We work with a range of clients to meet their scaffolding and access needs and requirements. Providing excellence in safety, professionalism, and efficiency.
We place high importance on health and safety, with a number of safety-specific accreditations that we've gained through our skills and expertise. While our years of experience working with commercial scaffolding, project management, safety, and leadership roles. Allowing us to stand out from our competitors while offering our clients a reliable and trusted service.
We offer free, no obligation estimates. Please get in touch with us to discuss your commercial scaffolding requirements. Or to learn more about our services.
We also offer Residential and Industrial scaffolding services.
AMF is striving to be a market leader within the commercial scaffolding industry and as such is committed to safety in all aspects of the workplace not only at the worksites but in the offices, vehicles, or yard.
All of our team are trained to a high standard on health and safety practices. This positively impacts our clients, other contractors, and the general public.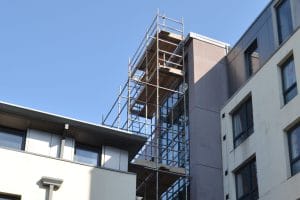 Scaffolding is critical in the construction and maintenance industries, providing a safe elevated platform to carry out tasks. However, improper use and neglect of safety protocols can lead to serious
AMF is pleased to announce that we have become the approved scaffolding contractor of Newtown Roofing and will support them on each of their various projects throughout Edinburgh and in
AMF is excited to announce a significant milestone in our journey, we are thrilled to share that we have recently become an approved scaffolding contractor for none other than Apex Roofing Contractors,