Meet Our Business Partners
We're proud to partner with a range of businesses in Edinburgh and Central Scotland. Meet our current partners and collaborations.
AMF is an approved supplier of scaffolding services to Apex Roofing Contracts for various types of scaffolding requirements that they have.
By choosing Apex Roofing Contracts, you are employing one of Edinburgh's finest roofing contractors with over 30 years of experience working within the roofing and building industry. They always work to the highest standard possible, using only the best materials for each job. Regardless of whether it's a residential or industrial scaffolding project. The client is a priority, safety is paramount and quality of work is imperative.
We offer Apex a priority service ensuring that all their needs are met in the scheduled timelines they wish to work within.
Leading Electrical Solutions
Leading Electrical Solutions are a trusted team of expert Edinburgh electricians offering a wide range of domestic and commercial electrical services. No job is too big or small and they take pride in delivering high end workmanship and fantastic customer service
AMF is the sole supplier of domestic and commercial scaffolding services to Leading Electrical Solutions for all solar panel installations within Edinburgh, and beyond.
A fantastic company with all the same ideologies as us at AMF. We highly recommend Leading Electrical Solutions and if you are looking for any electrical support we will be more than happy to organise this on your behalf.
Edinburgh Stone Repair is a company that covers all aspects of stonemasonry, which include: Replacing damaged stone and carving them to match the original. Stripping dangerous chimneys, rebuilding, and repointing in traditional lime mortar. 
AMF takes pride in working with this fantastic company, who are friendly attentive and extremely professional. They are best in class at what they do and we highly recommend their services. 
Other aspects of this fantastic business are gutter cleaning,  street cleaning, stone cleaning, roofing, building work, mastic repairs and church maintenance. They really do it all!!

Newtown Roofing is a company that we have a close working relationship with. They provide a high quality roofing services. From inspection, install and repair to large scale roof replacements. We'll be supporting them with commercial and residential scaffolding. 
Newtown Roofing is rapidly establishing itself as a leading roofing company within Edinburgh. They have a stellar reputation and provide excellent value for money while providing high standards and professional service.
Get in touch now for your free no obligation quote where we will ensure that all your requirements are taken care of!
It doesn't matter if it's a small hop-up platform or a large-scale project, we ensure that each of our employees is trained to the current industry health and safety standards.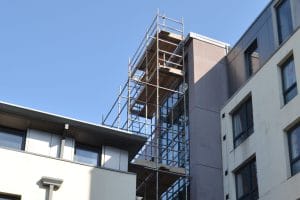 Scaffolding is critical in the construction and maintenance industries, providing a safe elevated platform to carry out tasks. However, improper use and neglect of safety protocols can lead to serious
AMF is pleased to announce that we have become the approved scaffolding contractor of Newtown Roofing and will support them on each of their various projects throughout Edinburgh and in
AMF is excited to announce a significant milestone in our journey, we are thrilled to share that we have recently become an approved scaffolding contractor for none other than Apex Roofing Contractors,