About AMF Access Services
AMF Access Services has a vision to become one of the leading access companies within the central belt region and beyond. 
A collaboration of two close friends who have extensive knowledge of scaffolding, project management, safety leadership and QA/QC.
Although AMF will be a small company to start like any new company. A progressive growth strategy will be implemented. AMF will hold large company values and excel within the Scaffolding sector offering excellence in job execution/delivery and high reliability. 
The Directors are both highly committed individuals who have known each other for 20yrs. The skill sets that they both bring will lead to long term success of AMF. 
Our company values at AMF are that we are market leader in procedural compliance and will ensure each task is completed with safety at the forefront of the operation. Safety is paramount to us!!
Further to the above we value Integrity, loyalty, customer excellence and reliability.
Get in touch now for your free no obligation quote where we will ensure that all your requirements are taken care of!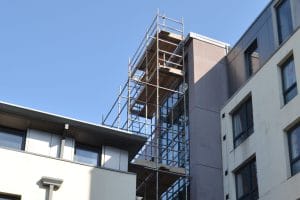 Scaffolding is critical in the construction and maintenance industries, providing a safe elevated platform to carry out tasks. However, improper use and neglect of safety protocols can lead to serious
AMF is pleased to announce that we have become the approved scaffolding contractor of Newtown Roofing and will support them on each of their various projects throughout Edinburgh and in
AMF is excited to announce a significant milestone in our journey, we are thrilled to share that we have recently become an approved scaffolding contractor for none other than Apex Roofing Contractors,
As leaders in procedural compliance, we strive for success by delivering excellence in safety, professionalism, efficiency, and reliability. Providing scaffolding and access services throughout Central Scotland.