Industrial Scaffolding Edinburgh
With our attention to detail, high class safety performance and significant knowledge of the Oil/Gas industry (near 20 years). We can provide a service that you can be assured will be of the highest standard. 
With our industrial scaffolding service, we can support 24hr working whether onshore/offshore. Work within the parameters of various permit systems such as ISSOW, proscient, Q4. While having the knowledge base and understanding of assisting in supporting fabric maintenance, construction, Inspection, or general maintenance.
Our very own director has managed large scale Inspection/fabric maintenance and industrial scaffolding projects simultaneously. While collaboratively running multi-disciplined activity at the same time. He has supported TARs on multiple platforms within the North Sea as well as assisting in the organisation of them.
We will make ourselves available to supply our expertise for any industrial scaffolding that you require, working closely with you during every stage of the project.
Out with the Oil/Gas industry, we offer our industrial scaffolding services to the renewable sector, petrochemical, marine, distilleries and many more. 
We will travel the country to ensure your scaffolding project is supported, remaining at that project until it is complete. Efficiency/planning are all keys to a successful project!
Get in touch now for your free no obligation quote where we will ensure that all your requirements are taken care of!
Edinburgh Industrial Scaffolding Services
AMF provide industrial scaffolding in Edinburgh and throughout central Scotland. Working with a range of clients to meet their access needs. While providing excellence in safety, professionalism, and efficiency.
With almost 20 years of experience working in the Oil and gas industry, our team are well placed to understand the challenges and safety requirements when carrying out large scale industrial scaffolding projects.
Here at AMF Access, we place high importance on health & safety, with a number of safety specific accreditations that we've gained through our skills and expertise.
Safety is always at the forefront of what we do. Allowing us to stand out from our competitors while offering our clients a reliable and trusted service.
All clients receive a free, no obligation estimate. Please get in touch with us to discuss your Industrial scaffolding requirements.
We also offer Commercial and residential scaffolding services.
AMF is striving to be a market leader within the industrial scaffolding industry and as such is committed to safety in all aspects of the workplace. Not only at the worksites but in the offices, vehicles, or yards.
All of our team are trained to a high standard in health and safety practices. This positively impacts our clients, other contractors, and the general public.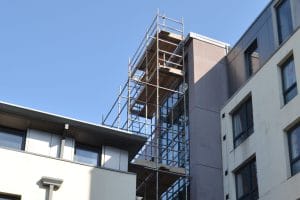 Scaffolding is critical in the construction and maintenance industries, providing a safe elevated platform to carry out tasks. However, improper use and neglect of safety protocols can lead to serious
AMF is pleased to announce that we have become the approved scaffolding contractor of Newtown Roofing and will support them on each of their various projects throughout Edinburgh and in
AMF is excited to announce a significant milestone in our journey, we are thrilled to share that we have recently become an approved scaffolding contractor for none other than Apex Roofing Contractors,