Leaders in scaffolding & scaffold tower access services
AMF supplies scaffold access within Edinburgh and the outer regions.
With residential, commercial, and industrial support being offered by our experienced and skilled scaffolders. From supplying, erecting, and subsequently dismantling scaffolding. While catering for all your needs and requirements throughout the project.
Our scaffolder team are reliable, professional, and efficient. Believing strongly in safety by implementing various procedures and tools to ensure the safety of our workers, the public or those who use our scaffolding.
Edinburgh Scaffolding Services
If you want the best come to AMF
Supporting Edinburgh & Central Scotland with Scaffold Access Support
To ensure your needs are taken care of our team of scaffolders supplies, erects and subsequently dismantles all scaffold towers once your job scope has been completed.
Together with our directors and scaffold operatives we work with you throughout the project. Ensuring that it runs as efficiently as possible, while also providing frequent communication to ensure you are up to date with all activity.
Our dedicated management team are more than happy to chat with you about any upcoming work or ongoing scaffold projects.
As standard, we provide free estimates for all scaffolding access requirements. Our scaffolders will complete a full site visit prior to each job commencing.
Offering pre-tender advice, as well as various scaffold systems. While supporting you with gaining your local council permits. Our scaffolders will manage your project from start to finish with professionalism. 
Our priority is minimising the stress and disruption to you while the scaffolding work takes place. Priding ourselves in working to the highest standards and offering the "best in class" at on-site safety. 
With our attention to detail, high-class safety performance and significant knowledge of the Oil/Gas industry (nearly 20 years). We provide a scaffolding service that you can be assured will be of the highest standard. 
Our team believe in customer excellence in all aspects of our work. This includes ensuring that our scaffolder team communicate with you throughout the duration of your project. Collaboration is important to us and providing a service that delivers success. If we do our part correctly then it will positively impact your business.

Safety is paramount to what we do. Without safety quite simply there is no business. Therefore we have a greater understanding of safety than most other scaffold operators and ensure that the training of our scaffolders is completed, recorded and is part of their individual growth programs.
Our scaffolder team strives for success and excellence in everything we do. Attention to detail, efficiency and attitude are key to success and we believe we have these factors in abundance. Transferring these skills into every scaffolding project we work on.

Experienced Scaffolders in Central Scotland
AMF provide scaffolding access support by supplying, erecting and subsequently dismantling for residential, commercial, and industrial projects within Edinburgh and Central Scotland. Our scaffold towers are built by our experienced and qualified team. With our scaffolder operatives being trained on best practices for health, safety, and reliability.
By offering a wide range of services for a diverse array of scaffold projects we can erect both small access platforms and large-scale industrial scaffold towers. Each scaffolding project is different with varying degrees of difficulty involved. However, regardless of how complex the job at hand our scaffolders ensure that the stress is taken out of your project and that you are looked after throughout.
Our team of scaffolders work with fixed scaffolds and not the Pasma aluminium type often referred to as mobile access towers. These aluminium type of scaffold systems aren't as safe or secure. Each of our fixed scaffolds (whether it's a tower or a large project scaffold) is put up by a minimum of three operatives.  The scaffolding is tied into the building ensuring that it's free from movement and completely secure.
Our scaffolders are trained and have years of experience. As a company, we provide safety training to each member of our team including our managers. It's imperative that we all do our jobs to the highest level every time!
Our team will carry out site visits ahead of commencing work on your scaffolding project. To gather requirements and proceed with building an individual risk assessment before we erect scaffolding towers on site. We've spent years building processes ensuring that the job goes to plan. With a total management system in place to ensure that work is carried out safely and efficiently before your contractors arrive onsite.
If you require scaffold supply, erected, and then subsequently dismantled for any project, large or small, then please get in touch with us and we'll be happy to arrange a site visit and discuss your requirements.
AMF provide trusted scaffolding hire services throughout Edinburgh and Central Scotland.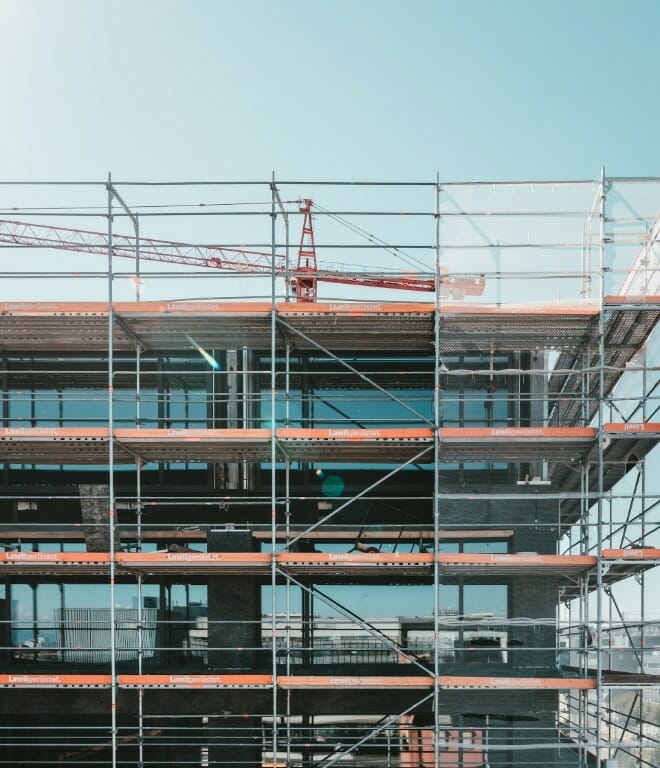 Safety is paramount to each scaffolding project we do.
It doesn't matter if it's a small hop-up platform or a large-scale scaffold tower project, we ensure that each of our employees is trained to the current industry standards.

At AMF we have a full array of safety procedures which the scaffolder team follows stringently during every stage of the scaffolding work we carry out.
Get in touch now for your free no obligation quote where we will ensure that all your requirements are taken care of!
We are continually looking to improve and give our customers the best experience. Ensuring that we as a company strive for success in all areas. We're working on further accreditation and will update you all when we have achieved them
*Certification can be given upon request
Scaffolding Hire Edinburgh
AMF provide residential, commercial and industrial scaffolding services in Edinburgh and throughout central Scotland. Working with a range of clients to meet their scaffold and access needs. While providing excellence in safety, professionalism, and efficiency with every scaffold tower we erect.
Here at AMF, we place high importance on health & safety, with a number of safety-specific accreditations that we've gained through our scaffolders skills and expertise. Meanwhile, our years of experience working on large-scale scaffold towers and projects in the oil and gas industry has allowed us to sharpen our knowledge and skills in project management.
Safety is always at the forefront of what we do. Allowing us to stand out from our competitors. While offering our clients reliable and trusted services for scaffold hire in Edinburgh. As well as providing scaffold access in Central Scotland to a diverse range of clients.
All clients receive a free, no-obligation estimate meaning we're able to understand your needs and timescales before getting started on your scaffolding project.
Please get in touch with us to discuss your scaffold access requirements.
Our latest posts cover all aspects of scaffolding, including tips, advice and news about our recent scaffold projects and ongoing scaffolder services and accreditations.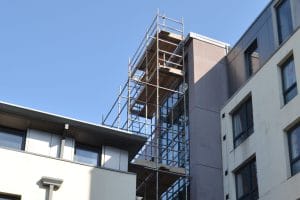 Scaffolding is critical in the construction and maintenance industries, providing a safe elevated platform to carry out tasks. However, improper use and neglect of safety protocols can lead to serious
AMF is pleased to announce that we have become the approved scaffolding contractor of Newtown Roofing and will support them on each of their various projects throughout Edinburgh and in
AMF is excited to announce a significant milestone in our journey, we are thrilled to share that we have recently become an approved scaffolding contractor for none other than Apex Roofing Contractors,