Safety is paramount to each project we do. It does not matter if it's a small hop-up platform or a large-scale project. 
We ensure that each of our employees is trained to the current industry standards. At AMF we have a full array of safety procedures which the team follow stringently. 
We will ensure that a job site visit is carried out prior to work being progressed to document hazards and difficulties associated to the task and then we will utilise the correct risk assessment to ensure the safety of not only our employees but the associated contractors and the public. 
AMF is striving to be a market leader within the scaffolding industry and as such is committed to safety in all aspects of the workplace not only at the worksites but in the offices, vehicles, or yard.
Safe Working Environments
We have introduced a safety card where employees can raise concerns so that the management team can identify trends in possible safety related issues and bring in positive change.
AMF holds monthly safety meetings with the team and will roll out industry learnings and encourage discussion as this means that safety is our first thought in our daily ongoing tasks. 
Every member of the AMF team has the power to "Stop the job" should they see something which isn't right. We as directors encourage this. No job is more important than the safety of those working on it or around it.
As of September 2022, we have introduced our "safety rules" booklets for each employee or contractor who will work from one of our scaffolds- These rules are there to protect everyone who works for or with AMF Access Services. A copy of this booklet can be given upon request and will also be sent out as part of any quote."
We are lucky that within our team one of the directors has 20 years' experience working in the oil & Gas industry as a manager within a large oil company who brings a wealth of knowledge which helps guide the team daily.
Please look out for updates on the website of exciting new safety initiatives we will be bringing into AMF
We as Directors believe in continuous improvement within the company and as such ensure that our team are trained with the correct skill set to ensure they can complete their jobs safely and to a high standard each time. 
We ensure that all our staff
> Perform pre job site checks – identifying dangers present at jobs site (carried out by advanced scaffolders/foreman/managers).
> Can understand the risk assessment process and the importance of it. 
> Perform and be part of toolbox talks prior to each job regardless the size of the task.  
> WAH rescue plans – Varied for differentiating tasks including over water. 
> Supply of correct PPE for each task- including but not limited too- hearing protection/hi vis/hard hats/harness's/ fall arrest/glasses/boots 
> SG4:15 working at height guidelines
Future Success in the Industry
Every member of the AMF team will work through a programme over the first 12 months of their employment of the company tracking individual progress and offering support throughout.  
We document all progress and encourage our team to continue training throughout each year they work with us. We carry out structured performance reviews and offer feedback and guidance to help all those who are part of the AMF family. 
We want to not only succeed in business but succeed in mentoring our workers for their own future within the industry. 
AMF is constantly looking at new ways to evolve and to ensure that we are the safest, most reliable access company around.
Get in touch now for your free no obligation quote where we will ensure that all your requirements are taken care of!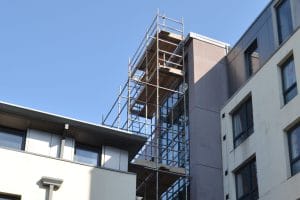 Scaffolding is critical in the construction and maintenance industries, providing a safe elevated platform to carry out tasks. However, improper use and neglect of safety protocols can lead to serious
AMF is pleased to announce that we have become the approved scaffolding contractor of Newtown Roofing and will support them on each of their various projects throughout Edinburgh and in
AMF is excited to announce a significant milestone in our journey, we are thrilled to share that we have recently become an approved scaffolding contractor for none other than Apex Roofing Contractors,
As leaders in procedural compliance, we strive for success by delivering excellence in safety, professionalism, efficiency, and reliability. Providing scaffolding and access services throughout Central Scotland.